Colors are powerful. They affect our moods. Some colors evoke feelings of calm and serenity; others joy and passion. It's worth your time to evaluate the colors around you, in your homes and offices—the places in which you spend the most time. Are these areas creating the mood you desire?
Creating favorable surroundings for yourself can be as simple as painting an accent wall or adding color through artwork or accessories, or it can be as elaborate as redecorating your home. For inspiration, consider color trend predictions for 2022. Though varied, the colors have a common theme: peaceful, optimistic and soothing, yet lively, unexpected and imaginative, almost rebellious. Amy Donato, senior color marketing manager for PPG Paint, suggests that as our society moves out of a year of lockdown, our color choices are "shifting away from the stark, neutral palettes of yesterday and opting for color in all forms."
Consider Very Peri by Pantone, a periwinkle blue that blends the "faithfulness and constancy of blue with the energy and excitement of red." (Pantone press release 12/9/2021). Pantone created this color to reflect our transition from the isolation of the past year into a positive future.
For those who want to take a cautious step forward, the softened tones of HGTV Home by Sherwin-Williams' Softened Refuge color palette will induce serenity and liven up your space while not being too bold. I especially like Aleutian, a washed indigo hue.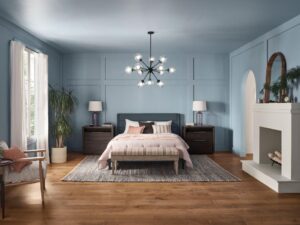 According to Sue Kim from Valspar, "Colors can power moods, energizing us with confidence, strength, and curiosity."
How will you color your space this year?